Control Vehicle Project
---
The project to replace our ageing control vehicle has been completed and we are proud to announce the new Control Vehicle which now goes operational. Below we present some details on the new Control Vehicle project.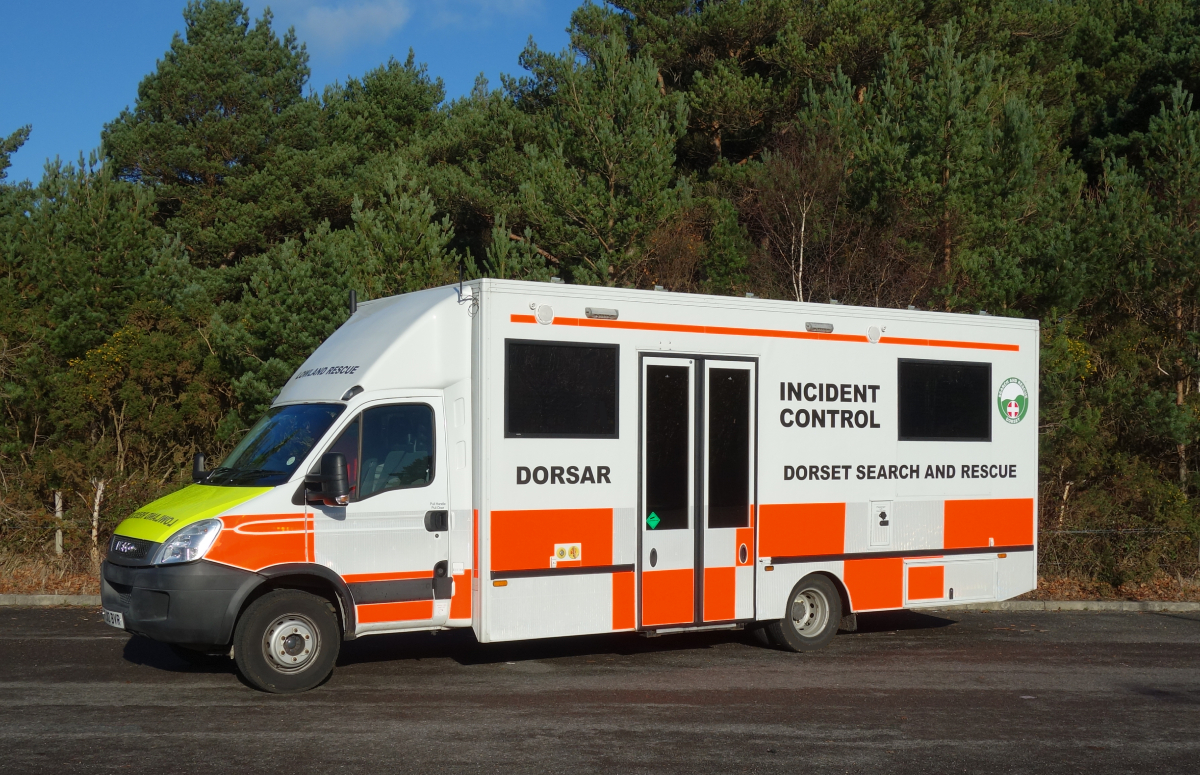 Dorset Search and Rescue rely on a Control Vehicle to be the operations hub of missing person searches, it is vital to us because it provides an area that enables missing person searches to be planned and coordinated in the best possible way.
From our control vehicle, our Search Planners work closely alongside Dorset Police officers, specially trained in missing person search, to create a search plan that is specific to the person we are looking for. The Search Operations team will organise our dedicated volunteer Search Technicians and Team Leaders into search teams. On board, Team Leaders are briefed on the current situation and maps are printed out. Teams then make their way to their designated search areas, where their welfare and progress are monitored on board by a dedicated Radio Operator. The radio continuously springs into life as teams keep in contact with the Search Operations team. Meanwhile, the Search Planner is already thinking about the next stage of the Search; Which areas will need searching next? Where has the missing person likely gone? All of this happens within our Control Vehicle, simultaneously.
Until recently, Dorset Search and Rescue used a repurposed DAF Coach purchased from Glasgow City Council in 2012. The vehicle has served Dorset Search and Rescue extremely well, attending hundreds of missing person searches, but its best days as a Control Vehicle are behind it and an upgrade has been sought for some time now.
A replacement Control Vehicle needed the following requirements:
To give a Search Planner, Search Operator, Radio Operator, and an officer from Dorset Police an improved environment to work in.
The storage and transportation of some key pieces of equipment that we may require on all searches, including medial kit, PPE, printers and stationery.
Allow us to keep in direct radio communication with search teams on the ground.
After some deliberation within the charities management committee about what vehicle to purchase, a good spot from one of our members resulted in a second-hand Iveco pretty much falling into our laps. Although ten years old, it had only done around 6,000 miles and had been with another charity beforehand, serving as a mobile education centre. Almost immediately, we knew that it would meet all of the requirements we had outlined and so the purchase was made in Spring 2020.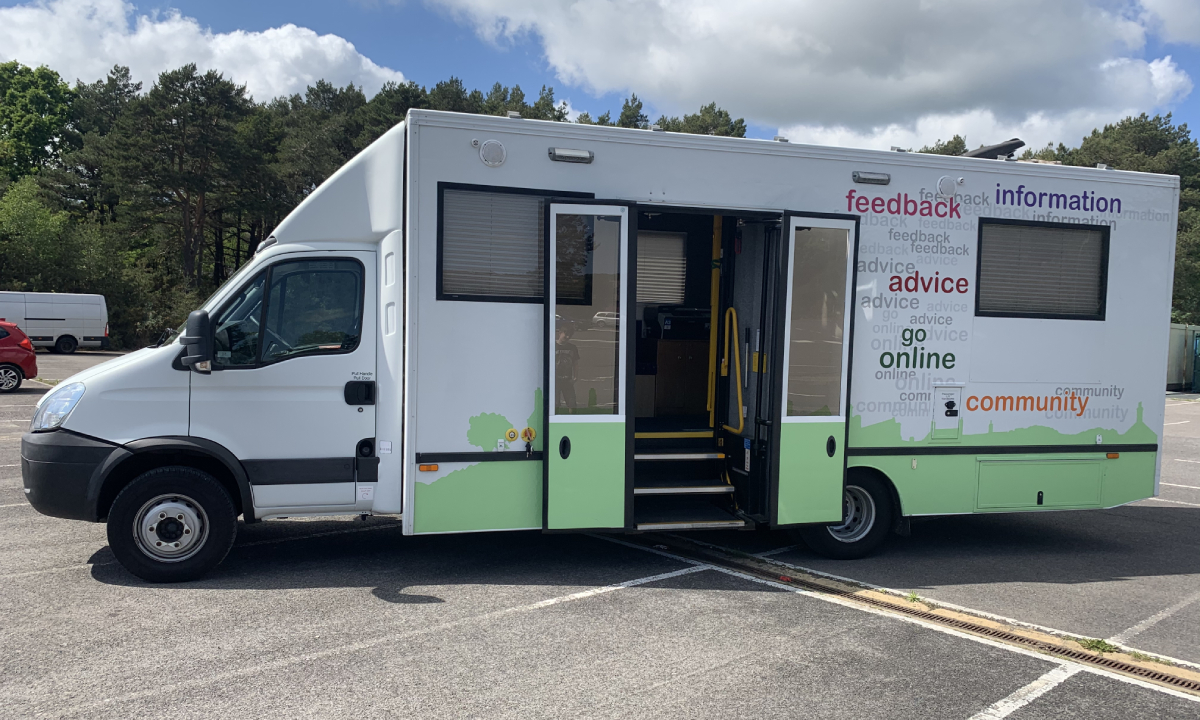 Obviously, we couldn't drive around with the markings of a previous charity. We also need our vehicle to be highly visible as it may often be parked in a road and needs to be clearly identifiable to searchers, other agencies, and members of the public.
We took inspiration from the national Lowland Rescue branding and generated our design. Once the design was defined, we found a local company, Goodwin Graphics, who took our design and applied it to the vehicle.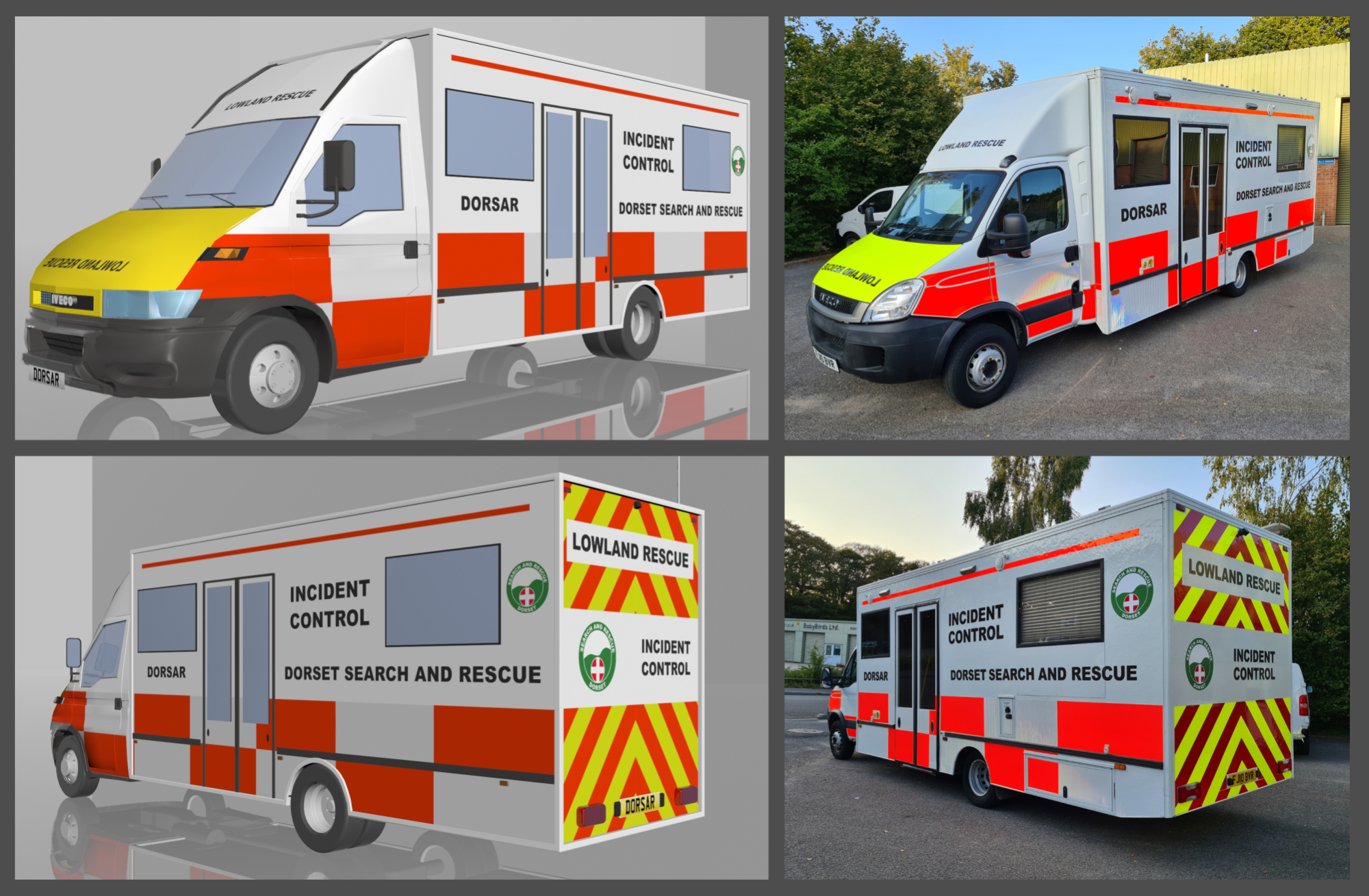 Structurally, there was very little we needed to do. The rear of the vehicle came with a long desk which we knew we needed and plenty of storage. So, we added a new floor, installed a 3G/4G router with internal network, an aerial for radio communications, and wall-mounted screens.
The desk space allows for up to 5 people to sit and work at any one time. Our dedicated radio communicator sits nearest the door and has access to the radio comms unit. This is followed by the Search Operator who put a search plan into action, a Search Planner who creates the plan, and a specially trained Police officer who works with the planner to devise a plan and coordinate the investigative aspect of a search.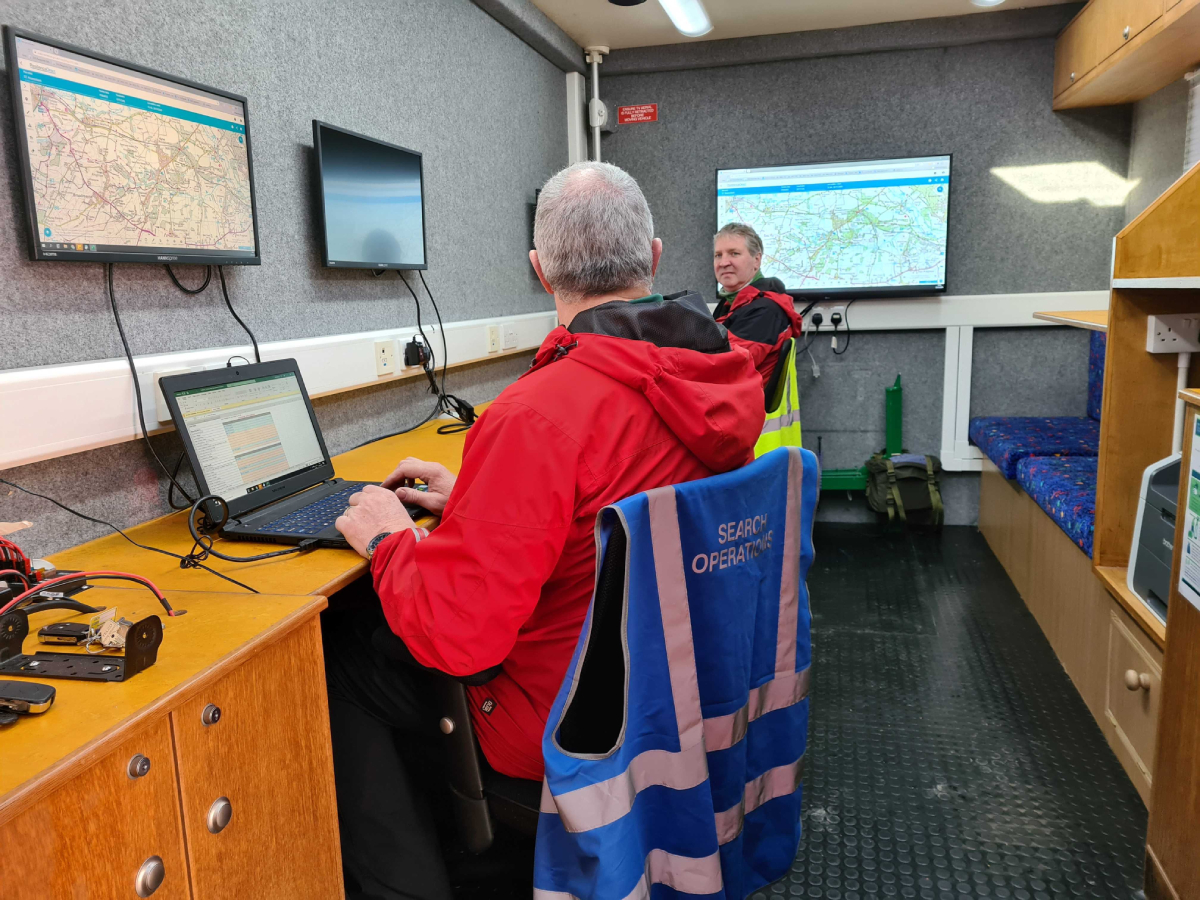 Tom Bryant, Dorset Search and Rescue's Chairman, had this to say:
Its great news and we are delighted with our vehicle conversion. The team has worked so hard bringing this important piece of kit to an operational standard. The new incident control vehicle will be used on all our searches aiding our search managers and planners to work alongside the police in one mobile office.

Our old control vehicle had reached the end of its serviceable life and a project to purchase a purpose built vehicle was started. As we are a 100% voluntary organisation we rely on donations and fundraising. Many different companies and organisations have supported our cause with this project, and I cannot thank them all enough. Our new incident control vehicle will now go operational and aid in the search of vulnerable missing persons throughout Dorset.
The most incredible thing about this whole project is that the majority of funding came from the community of Dorset.
Other large projects, such as our recent Water Response Unit, are usually funded through grants but our Control Vehicle was financed using ring-fenced funds, carefully set aside using our regular income stream with bucket collections from various events, such as the Dorset Show and Sherbourne County Fair featuring heavily. Small collection pots in pubs, restaurants and shops all dotted around Dorset went into this project. As too, did many direct donations from individuals and other community groups. So, we have a big thank you to the Dorset community for their support in making this happen.
Help us find missing people
---
Dorset Search and Rescue are funded through donation or grants, which we could not do without the support of the Dorset community. You can help us find missing people by donating, big or small. As a group of volunteers, no one takes a wage and all of your donation goes straight into the charity.
DONATE HERE
FUNDRAISE
Would you like to gift something to us instead? Check out our Amazon Wishlist, where you can purchase items we need for us. They get sent directly to the charity.
AMAZON WISHLIST
Latest Articles
---
Dorset Search & Rescue's much needed Water Response Unit goes live, with thanks to the Department for Transport, Ford UK and local companies. Read more
---
Poole based company, Muc-Off, make a significant donation of hand sanitizer to help us search for missing people during the Coronavirus pandemic. Read more
---
One of Dorset Search and Rescue's dedicated volunteers has gone above-and-beyond by making a significant donation of 4 hand-held digital radios to the charity. Read more
---

---
Help us to keep DorSAR operating and fund new life saving projects in your community by donating to us or setting up a fundraiser.
DONATE HERE
FUNDRAISE FOR US