About Dorset Search & Rescue (DorSAR)
Dorset Search & Rescue was founded in 2004 by Bob Knott and since then has grown in both size and reputation.
We are available and on call 24/7, 365 days of the year, with a commitment to Dorset Police that we are able to deploy anywhere in the county of Dorset within 90 minutes of being called upon.
Called into action via Dorset Police, DorSAR are able to offer considerable resources to support the county's emergency services in times of crisis. Dorset Search & Rescue currently comprises of over 80 operational search technicians who are all qualified Lowland Rescue Search Technicians, a qualification that satisfies national standards. We have three vehicles, a comprehensively equipped search control vehicle, a bespoke water team support vehicle and a 4x4 Land Rover.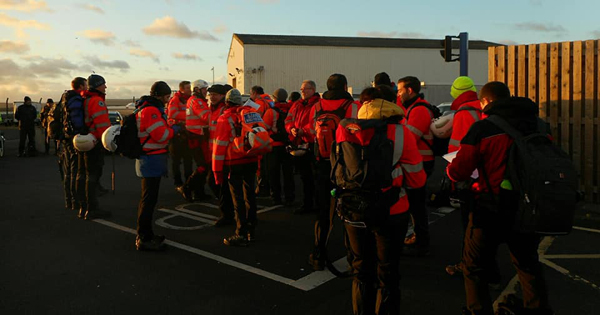 Operational Structure
On a deployment, we separate those responding to a callout into individual search teams. A team will typically consist of between four and six search personell but never fewer than two. Each operational member holds a Lowland Rescue Search Technician qualification which consists of multiple skills (e.g. First Aid, Basic Navigation, Radio Communications), meaning any member of the team can fulfill that role. Each team is then led by a qualified Team Leader.
Depending on the availability of our volunteers, a typical deployment will usually see several of these search teams working in specific designated areas, under the instruction of Search Control. Our Search Control typically consists of at least one Search Planner but will usually include a Radio Operator, Search Operations and Control Support personell. Our Search Control team usually work alongside a Lost Person Search Manager (LPSM) or a Police Search Advisor (PolSAR) from Dorset Police. Using the same mapping systems, intelligence and previous experience of working together, Dorset Search & Rescue work closely with Dorset Police on our control vehicle to coordinate search efforts in an efficient manner
In addition to our standard operational structure, Dorset Search & Rescue has a number of personnel who are trained in advanced skills.
Our Tier D medics are trained to a higher level of First Aid and are able to deliver a more advanced level of care to people, such as advanced airway management, administration of oxygen and entinox, and further observation abilities.
Our Swift Water Rescue technicians are trained to work in and around inland waterways in a way that minimizes the risk to everyone. They operate with equipment such as boats, the correct PPE, ropes and other technical equipment to achieve this.
Our Bank Search trained technicians are trained to work safely near the water's edge in order to visually scan inland waterways and river banks.
Our Bike Search technicians provide the ability to rapidly deploy into an area and cover large areas such as paths and tracks very quickly. In addition to a quick initial visual search, our Bike Search technicians give feedback to Search Control on factors such as terrain conditions, in advance of foot team deployment.
JOIN US
Organisational Structure
Organisationally, DorSAR is structured to support the ongoing needs of the operational team. We rely on our Fundraising team to bring in the vital funds that we need to operate and the PR team to raise awareness across the county. Our Operations group focus on ensuring the operational readiness of DorSAR with dedicated roles for the coordination of training, equipment provisions, vehicle maintenance and each of our identified competency groups (e.g. Water, Navigation, Radio Comms, Medical, Tracking, Bikes). The welfare and safeguarding of our team members and those whom we come in contact with is managed by our Welfare and Safeguarding team.
All of these roles report to a designated trustee of the charity, who all sit on a managemet committee. The management committee are elected each year at the charity's AGM and are supported by an elected deputy.
BECOME A SUPPORT MEMBER
Our Motto
Hope for the best, prepared for the worst
MAKE A DONATION