Safe and Sound
PREPARATION ~ PREVENTION ~ PEACE OF MIND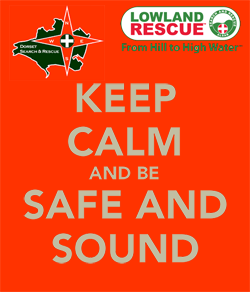 Dorset Search and Rescue (DorSAR) is proud to announce the new
Safe and Sound
campaign - aimed primarily at those that care for vulnerable people of all ages.
DorSAR is launching this new initiative that reminds you to get into a routine which will help ensure that you are well prepared for an unanticipated emergency. It is particularly relevant to those who care for friends and family at home, parents, foster parents, and those who work with vulnerable people in various residential settings.
The main focus of the initiative is the Life History Questionnaire. This is where a record can be made of a range of background information about the person cared for. It is retained in a safe place so that it is immediately available to Police and search teams in the event that they go missing. This short form requests a range of information based on years of successful searches throughout the country. You do not need to worry, however, about the privacy of this personal information as we ask you to keep the completed form yourself in a safe place at home and only supply it to the Police or volunteer search teams in the event of an emergency.
The Life History Questionnaire is available to download in either pdf or word format, please click on the relevant form below to download, view and print the blank forms. The word version can be completed and then saved on your computer, so future updating will be easier, also remember to print the completed form for ease of retrieval.
Download the Life History Questionnaire. Fill in as much information as you can.

Take a clear Head and Shoulders photo of the person you care for. Fix it (or insert a digital photo)to the appropriate place on the questionnaire.
Keep the information in a safe place so that it is readily available to hand to the police in the event of that person going missing.
Take a new photograph every 6 months and replace the old one.
This proactive initiative is intended to alleviate as much of the stress associated with this type of event as possible. It is easier to hand the questionnaire to the Police rather than try to recall all the information at such a stressful time.
Don't have access to a camera? Not confident in your photography skills? DorSAR can help.
We can bring a camera when we give presentations to carers groups and when we attend community events, carers days and fayres.
If you are part of a carers support group, a day centre, residential facility, etc. please contact us about giving a short presentation about our work and our campaign and ask us to bring the camera.
When the Clocks Change, Take a Photo of Your Loved Ones
Few people realise the benefits of having a recent, clear, head and shoulders photograph of the people they love and care for in the event that they unexpectedly wander off and go missing. This is one way that Carers and parents can remember to take a 'head and shoulders' photograph of the person(s) they care for and/or their family members and paste onto the life history questionnaire. This will ensure that the photo on the questionnaire is never more than six months old. Don't forget to check the smoke alarms at the same time!
These easy actions will help you and the ones you care for stay safe and sound in the event of an emergency.
We are always interested to work with other agencies and groups that share a concern for the safety and welfare of vulnerable persons. If you have a related campaign or ideas for potential joint initiatives please get in contact with us to discuss potential partnerships.